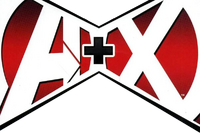 A + X is the first volume in the A + X comic series.
Premise
it is a team-up comic book centering in the sometimes reluctant teaming up of mutants and other heroes, mainly meaning an Avenger teaming up with a X-Men member. The book itself states the stories are in-continuity but that it does not matter in the end, as the stories do not have immediate impact in the Marvel Universe.
Starring
Each story is starred by one member of the Avengers and one member of the X-Men working as a team.
Issues
Community content is available under
CC-BY-SA
unless otherwise noted.