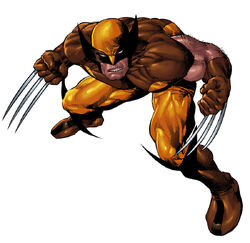 Starting in Uncanny X-Men #139, Wolverine began wearing a costume with more muted colors compared to his various bright yellow and blue Wolverine suits and X-Men uniforms. The original version of this costume was designed by John Byrne. In some modern redesigns this color scheme is further simplified leaving only a sharp contrast between ochre and black.[1]
Background Information and Notes
Wolverine is not fashion conscious, clearly, but he is enormously proud, and if he is going to wear a costume at all, it would be one of his own design. Presumably the blue and yellow was government issue (which would explain a lot!), and since he rejected Fang's costume precisely because it was not his own, it makes sense for him to want one that officially declares his independence.
"
"
References
External links