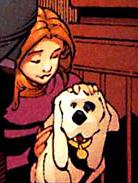 Biography
Gailyn Bailey was the eldest child of Sara Grey and the niece of Jean Grey, founding member of the X-Men. She and her brother, Joey were transformed by Nanny into a superhuman duo known as Shatterbox. However they were transformed back by X-Factor. Like her brother, she is a latent mutant and was hunted by the Sentinels but was saved by Roust and X-Man. She was among the fatalities in the Shi'ar's raid on future Phoenix Force avatars Before her death, Gailyn and her brother were planning to be adopted by her great-uncle Brian Grey along with his wife, and daughter. All three perished along with Gailyn and Joey.
Powers and Abilities
Telekinesis
Paraphernalia
Transportation
Formerly Nanny's flying spidership.