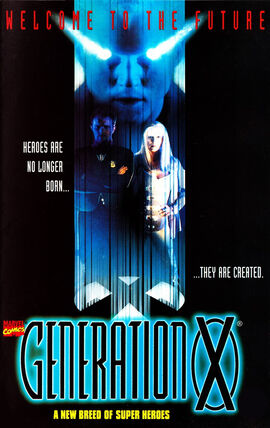 Generation X is a telefilm and the first live-action adaptation of the X-Men characters. Produced by New World Entertainment for Fox television airing on February 20, 1996. It is speculated that the film was a backdoor pilot for a potential series. A series never materialized, but it would soon be followed by a big budget feature film four years later.
Synopsis
A group of troubled teen mutants are indoctrinated into "Xavier's School for Gifted Students"- a selective private school just for mutants. The kids are taught by two adult mutants: the filthy rich and morally questionable telepath, Emma Frost/"The White Queen", and Sean Cassidy/"Banshee", an Irishman who has a "sonic scream" capable of splitting steel. The villain of this story is Russell Tresh an egomaniacal scientist out to use mutants to advance his schemes. When he finds out that The White Queen, an old adversary of his, is now teaching school to a bunch of mutant teenagers, he decides to kill two birds with one stone and kidnap her students to use in his experiments.
Cast
Finola Hughes

as Emma Frost

Jeremy Ratchford

as Banshee

Matt Frewer

as

Russel Tresh

Heather McComb

as Jubilee

Suzanne Davis

as

Buff

Bumper Robinson

as Mondo

Agustin Rodriguez

as Skin

Amarilis

as M

Randall Slavin

as

Refrax

Lynda Boyd

as

Alicia Lee

Robert J. Lewis

as

Jim Lee

Lalainia Lindbjerg

as

Kayla

Kevin McNulty

as

Robert Ralston
Home Video availability
The film was released on VHS, but is still unavailable on DVD.
Gallery
Videos