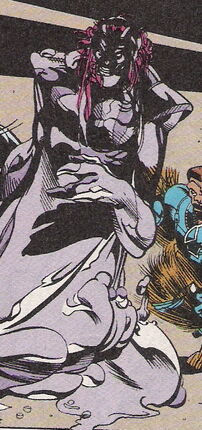 Character biography
Very little is known about Gorgeous George, but it is known that he was a member of the Nasty Boys, a group of young mutants whose first and only missions were against the government sponsored X-Factor. He is also Australian. In his first appearance, his arms are longer than normal because he forgot their normal length after getting drunk with the other Nasty Boys. He is able to do many things with his tar-like body, and he once attempted to choke Strong Guy by entering his lungs. It is unknown if Gorgeous George retained his mutant powers after the M-Day.
Powers and abilities
His body is composed of a tar and putty-like solution that can be expanded, morphed, and reshaped in any way by his thoughts.