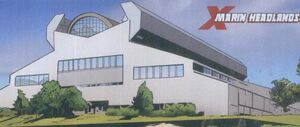 History
Origin
Graymalkin Industries was a structure that was built in San Francisco at Marin Headlands where it was palced at long abandoned military bunkers that lined the cliffs overlooking the Pacific Ocean. Construction was authorised by mayor Sadie Sinclair and was the undercover name for the X-Men's new headquarters in the region after their departure from the X-Mansion which had been previously destroyed in an earlier battle. Intended to fulfil many of the elements of the X-Mansion, such as containing the bulk of its facilities underground which included the Danger Room, the Cerebra chamber and a hanger bay for the Blackbird. It was not only home of the empowered Mutants but also the depowered ones as well.
San Francisco riots
The tenure of the X-Men at Graymalkin Industries was however, short lived and ended due to the growing anti-mutant sentiment that was propagated by Simon Trask and aided by Norman Osborn. This led to the instigation of riots which exploded in San Francisco with further opinion of mutants being turned against the X-Men by the creation of Proposition X. Thus, in order to protect his people, X-Men leader Cyclops decided to restore Asteroid M from the ocean floor and turn it into a safe haven for the X-Men known as Utopia after which they abandoned Graymalkin Industries.
Notes
The blueprints of the facility first appeared Astonishing X-Men Sketchbook Special, but it first appearance in an actual comic was in Warren Ellis and Simone Bianchi Astonishing X-Men #25.
Community content is available under
CC-BY-SA
unless otherwise noted.