History
Charles Xavier, founder of the X-Men, became increasingly worried after loosing several students. The first Thunderbird died on his second mission, and Phoenix had committed suicide. In an attack by the Brood, Xavier believed that all of his X-Men perished. He vowed not to put any more young mutants in danger, but his friend Moira MacTaggert convinced him to form a new team of adolescent mutants. This time, he would only train them in the use of their special powers, and not send them out into combat.  Xavier was unaware that when the X-Men originally fought the Brood in deep space, the Brood had secretly infected with a Brood queen. Under the influence of the Brood queen, Professor X began admitting teenage mutants to his school of gifted students, thus forming the team. Xavier recruited five youngsters while protecting them from attacks by Donald Pierce. Karma (Xi'an Coy Manh, Vietnamese girl able to mentally possess others), Wolfsbane (Rahne Sinclair, Scottish girl with the ability to shift into a lupine form), Mirage (Danielle Moonstar, Native American girl able to create illusions based on others greatest fears or wishes), Sunspot (Robert da Costa, Brazilian boy who gained strength due to solar energy), and Cannonball (Samuel Guthrie, American boy able to rocket through the air while near invincible). The New Mutants were later joined by Magik (Illyana Rasputin, a Russian time-space teleporter trained to use magic by Belasco), Magma (Amara Aquila, from Nova Roma, able to control lava-like plasma), Warlock (a member of the alien techno-organic Technarcy), and Cypher (Doug Ramsey, an American boy able to translate any language). Near the conclusion of second Secret War, the Beyonder erased the New Mutants from history. After they were restored, they had to relearn the use of their powers. The team later reorganized into the original X-Force under Cable. The name "New Mutants" was later used by the New Mutants Training Squad. A new Team came about in the Aftermath of Infernus, to battle and rescue Legion.
Members
Former Members
Copy cat, Bird Brain, X-Man, Gosamyr, Skids, Rusty Collins, Leech, Artie Maddicks, Empath, Wither, Prodigy, Wind Dancer, Wallflower, Elixir, Surge, Icarus, Shadowcat, Legion, Boom Boom
Current Members
Moonstar, Wolfsbane, Cypher, Magik, Warlock, Cannonball, Magma, Warpath, Blink, Sunspot, Karma, Feral, Thornn, Jubilee, Hollow, Brightwind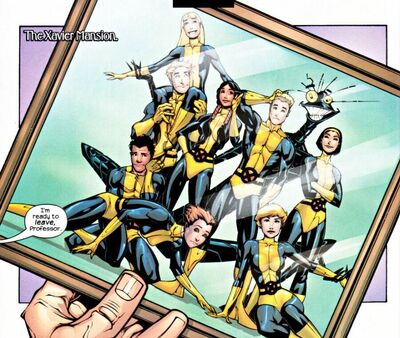 Community content is available under
CC-BY-SA
unless otherwise noted.