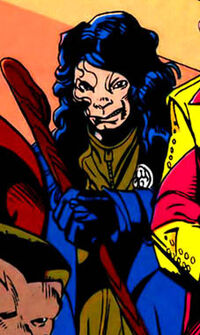 Biography
Possibly a native of Ireland or Scotland, Patrick Mahony was recruited by Mister Sinister to serve as the leader of the Nasty Boys as Ramrod, a group of young mutants whose first and only missions were against the government sponsored X-Factor. However, he and his friend Ruckus were more interested in beer runs and a quick buck than in Mister Sinister's agendas. In the Nasty Boys' first and only missions against the government version of X-Factor, Ramrod used his powers to great effect against the heroes, but he was ultimately subdued by the multiple fists of Jamie Madrox. Ramrod escaped, and disappeared after Sinister effectively abandoned the Nasty Boys.
Powers and Abilities
Powers
Ramrod can manipulate the fabric of wooden materials, causing them to grow at a fantastic rate and reform themselves into different sizes and shapes.
Paraphernalia
Weapons
shillelagh
Community content is available under
CC-BY-SA
unless otherwise noted.