X-Men: Destiny is an action role-playing video game based on the X-Men comic book series. It was developed by Silicon Knights. The story was written by Mike Carey, the writer of the X-Men: Legacy comic book series. The video game was first released by Activision for the Nintendo DS, PlayStation 3, Xbox 360 and Wii consoles.
Synopsis
In X-Men™ Destiny, players control the fate of one of three brand-new mutant characters that have only just begun to realise the power that they posess.
Appearances
Playable Characters
On the console versions of the game, players can choose between three new mutants.
Grant Alexander

Adrian Luca
Non-playable characters
X-Men

Pixie

Emma Frost

Wolverine

Caliban
Colossus
Forge
Gambit
Iceman
Northstar
Surge
Avalanche

Brotherhood of Mutants

Toad

Juggernaut

Sabretooth
Mystique
DS Version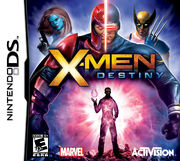 Special Editions
Gamestop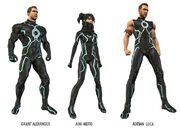 By pre-ordering the game at GameStop, you could get exclusive X-Genes from Havok in order to use them in any of the three characters. Said X-Genes include plasma damage, ability for projectiles to pass through characters, increased resistance and boosted mutant power.
Amazon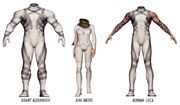 The Amazon pre-order version includes an early unlock of Emma Frost Suits and powers, as well as $10 promotional credit.
BestBuy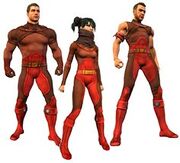 The BestBuy pre-prder version includes exclusive Juggernaut Costumes and bonus stats once you find the Juggernaut X-gene in the game.
Gallery
Videos

This article is a stub. You can help X-Pedia by expanding it.