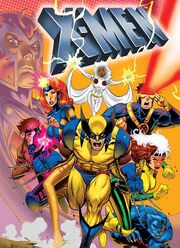 X-Men, also known as X-Men: The Animated Series, is an American animated television series that originally aired from 1992 to 1997 on Fox as part of the Fox Kids programming block. The series is based on the Marvel Comics superhero team known as the X-Men, a group of mutants who protect the world from dangers that threaten humans and mutants alike. The team's line-up was inspired by Cyclops' Blue team from X-Men comics during the '90s era.
While the series featured original stories, many of the episodes loosely adapted storylines from the X-Men comics, such as "Days of Future Past" and the "Dark Phoenix Saga". It also crossed over with the 1994 Spider-Man animated series on occasion, establishing the two shows as existing in the same continuity.
Cast and Characters
Main
Trivia
A variation of the show's theme song was used as Eclipse's ringtone on The Gifted, a live-action TV series based on the X-Men universe.
Gallery