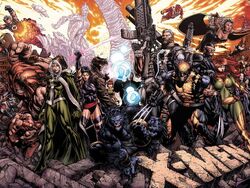 X-Men Wiki is an encyclopedia run by fans, for fans and we need your help!
We chronicle everything surrounding X-Men, which is a comic book franchise that has resonated for decades, starring some of the most popular comic book characters ever. With 1,628 articles, 535 characters, 10,374 total pages and 33,483 all-time edits, we are the go-to place for all things X-Men TV and comics!
Characters
From heroes to villains, alliances shift greatly among the characters of the X-Men comics.
Comics
The X-Men have a 50 year history with Marvel Comics.
TV
Many comics have inspired television series, in live action or animated.